Even with countless pages published about ordination, the focus of ordination to the gospel ministry distills to one factor: It is a calling. It is more than a choice for a career; because, if the Lord calls someone a numinous disease beckons one until that calling is followed. 
H.M.S. Richards, Sr. would emphatically state, "If you can do anything else, do it!" Of course, the intent of his comment was "Have you been called?" It is not pleasant to disregard the Lord's calling. 
Take David, Moses, Samuel, or Paul as examples. Any reluctance by them when called into ministry eventually led to obeying the Master's bidding. Thus, when one receives a divine tap on the shoulder and the mantle descends (i.e., Elisha), that supersedes all other attractive or disconcerting factors whether a financially enriching career (Abraham & Nicodemus) or affliction (i.e., Jeremiah & Ellen White). 
And by the way, there are multiple joys in the gospel ministry. The pinnacle of joy is confirmed even in Heaven as angels rejoice over one soul saved for eternity (Luke 15:7, 10, 24). 
There have been moments when younger folks have wondered, "How can I know the gospel ministry is my mission in life?" A helpful reply is "Have you sensed a call by God for gospel ministry?" If so, do not pursue any other career, but follow God's call upon your life.  
The foregoing message is not to say that God and I are the only deciding participants. Scripture reveals that the church body confirms the calling (i.e., Paul & Barnabas, Acts 13:1-4). That call may be confirmed in various ways such as support from a local congregation, teachers, pastors, peers, parents, and the fruits of soul-winning in ministry.  
After extensive examination by church leadership, the pastors and their congregations below have celebrated God's calling in their lives. Maybe God is tapping you on the shoulder for the gospel ministry? If so, He will facilitate and confirm your call to His service. Remember, "All His biddings are enablings"(Christ Object Lessons, p. 333). 
 - Steven Poenitz, Lake Union Executive Secretary
---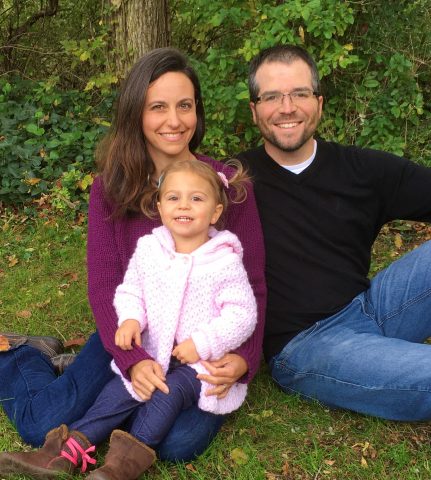 Jared Nudd, Indiana Conference
While pursuing a degree in music at Southern Adventist University, Jared Nudd sensed the Lord's call to pastoral ministry but was reluctant to give up his plans to be a music teacher. After graduating with a BA in Music, Jared went through a long period of "wilderness wandering" that included a year of mission work in Europe, trying out different careers, and literally hiking through the wilderness. He finally realized that he had been running from the Lord's call to serve the church. He then enrolled at Andrews University, began his seminary training, and completed a Master of Divinity degree in 2016.
Jared has been the Associate Pastor at the South Bend First Seventh-day Adventist Church in Indiana for four years. He enjoys all aspects of pastoral ministry, especially preaching and teaching the stories of the Bible. Jared is also a biblical storyteller who learns portions of scripture by heart and recites them from memory. He has presented the gospel of Mark and other selected Bible passages for audiences in Indiana, Michigan, and Maryland.
Jared met his wife, Monica, at Highland View Academy in Hagerstown, Maryland. They were only acquaintances in high school, but they became good friends after college and were married in 2011. They enjoy hiking, reading, music, and listening to the Discovery Mountain radio program with their daughter Carina.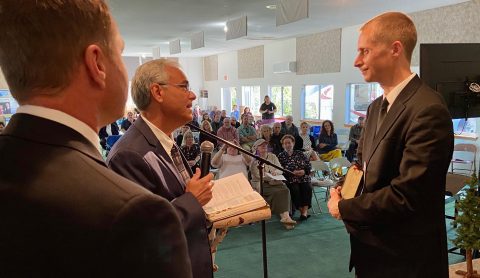 Sean Brizendine, Michigan Conference
Though Sean Brizendine's parents had grown up Seventh-day Adventist and met at Andrews University, they were attending a non-denominational church by the time he was born, in Modesto, Calif. Sean first accepted Christ in prayer with his mom at the age of five. He and his younger sister Kristen were homeschooled by their mother and, during this time, he learned about the biblical truth of the seventh-day Sabbath. Desiring to follow Jesus, Sean was first baptized in a river at the age of 10.
Tragedy deeply affected his family as Sean's father, John, battled a rare brain disease for several years and died when Sean was 12 in the year 2000. That same year, his mother, Elaine, was diagnosed with cancer that later took her life in 2002, when Sean was 15. Sean and his sister then lived with guardians who knew their family from their local church.
After completing high school, he had the opportunity to attend Pacific Union College starting in 2005. This put him near Farrel and Bobbi Brizendine, his uncle and aunt who were Seventh-day Adventists.
As Sean discovered that the consistent Bible messages shared by the Seventh-day Adventist faith were in harmony with his early convictions of the Sabbath, he decided to become a member of the Seventh-day Adventist Church by joining the Pacific Union College Church through profession of faith. This was news which led his uncle to tears of joy for answered prayer!
After some time away from college in non-profit ministry work, Sean went on to complete his last two years of undergraduate theology studies at Andrews University from 2011 to 2013. He then made an immediate transition into his Master of Divinity studies, which he completed in 2015.
In 2015, he was invited by the Michigan Conference to begin pastoral ministry in the Greenland and Bessemer congregations in the western Upper Peninsula of Michigan. The opportunity arose for the ministry district to expand with Sean becoming the senior pastor of the Houghton congregation on November 19, 2016.
Sean enjoys experiencing union and communion with God through composing new songs, thus helping him memorize passages from the Bible and the Spirit of Prophecy.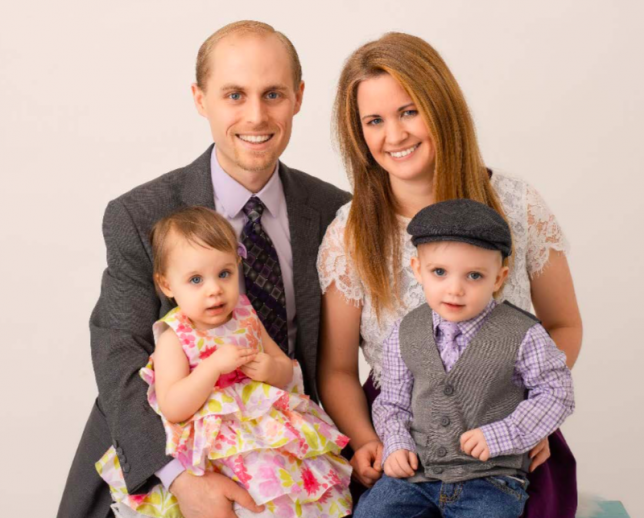 Josiah Hill, Michigan Conference
Josiah Hill grew up in a Godly home nestled on a mountain in the Columbia River gorge in Washington state. His parents believed in Jesus, organic farming and a strong work ethic. Josiah, along with his two brothers, developed a love for all three.
Though he was immersed in the church from babyhood, Josiah struggled to find meaning in the Bible and have a personal relationship with Jesus as a young person. He dreamed of being a mission pilot because he liked the idea of helping people, and the excitement involved in flying planes, but even though outwardly his life looked the picture of a godly young man, he didn't feel any assurance that he himself would be in heaven.
He was brought face-to-face with the reality of his spiritual condition when he was diagnosed with a life-threatening illness at the age of 17. The doctors called it idiopathic aplastic anemia, a rare condition where the immune system mutates and begins to attack and destroy blood cells forming in the bone marrow. For weeks Josiah laid in a hospital bed wondering if he was going to live to see his 18th birthday.
Through a series of miracles, Josiah was able to undergo a rare and highly controversial treatment for aplastic anemia. Though risky, this treatment was effective, by God's grace, and today Josiah is completely free from any effects of the disease.
His life would never be the same though. He felt like the dreams he previously had for his life were empty and meaningless. The only thing that seemed to matter now was bringing other people to know Jesus. He wanted to help people see what he had seen in that hospital bed – that having a heart surrendered to God was the only truly important thing in life.
As he recovered, he began to throw himself into ministry. He attended evangelism training at AFCOE (Amazing Facts Center of Evangelism) and began to get experience as a Bible worker. After a year of this, he sensed God calling him to enter full-time ministry, and he went to Ouachita Hills College to study theology.
There, he was introduced to Literature Evangelism. Canvassing gave him precious experiences connecting with searching and hurting souls. Josiah also discovered that canvassing is a great way to find a wife! He worked closely in ministry with a young lady named Beth. Over time, through the ups and downs of ministry work, she became his best friend. They were married in November of 2014. They accepted a call to pastoral ministry in the Michigan Conference in 2016, where they added two children to their family, Caleb and Abigail.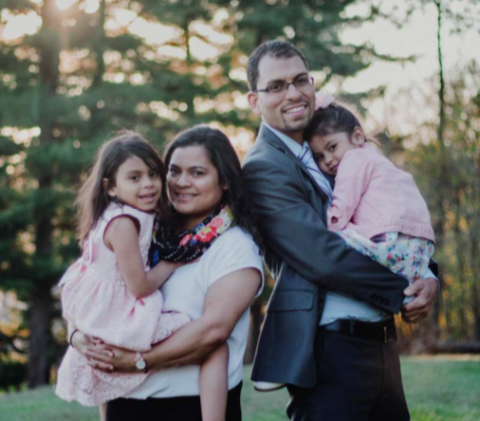 Carlos Sotomayor, Michigan Conference
At the age of five, Carlos Enrique Sotomayor Rivera and his family relocated from his native Puerto Rico to Flint, Mich. While Carlos spent most of his school days in public school, he had the privilege of attending the First Flint SDA School.
During these early years, he did not have a father-son relationship with God, but God had plans for him. In 1998, when Carlos was 15 years old and in the tenth grade, his family decided to move back to Mayaguez, Puerto Rico, where he attended a Seventh-day Adventist academy. At the beginning, he hung around the wrong crowd and his walk with Christ did not get any stronger, but, once again, God had plans for him.
The turning point for Carlos came when he was a senior in high school. A close friend of his, Charles Stark (aka Chuck), who joined Carlos in doing foolish things at the time, had a dramatic and sudden conversion experience. Their friendship continued after Chuck's conversion and Carlos was soon convicted to repent from his sins.
Carlos enrolled in Antillean Adventist University in Puerto Rico and during his time there, the Lord gave him many opportunities for ministry, including initiating personal evangelism work in the public housing projects of Mayaguez. Notorious for rampant drug usage and violence, this territory proved to be challenging at times, but the Lord richly blessed. As a result of their work, 3AM (Three Angel's Message) was born and is still active today at Antillean.
Carlos graduated in 2006 from Antillean with a Bachelor of Arts in Secondary Education and began working as a Bible and History teacher. However, he felt the burden and desire to be an overseas missionary. Between 2007 and 2008, he was given multiple opportunities to do mission work in Africa, as a lay evangelist and church planter.
In 2008, the Lord led Carlos back to the United States where he canvassed. It was during one of the summer's end retreat for the Magabook Canvassing Programs that Carlos met his wife, Wanda. In the Spring of 2009, God led Carlos to attend Mission College of Evangelism, and, after this, he moved to Guam to work as a teacher and Bible worker.
In November 2010, Wanda and Carlos moved to the faraway Island of Saipan, where he worked for a short time as a Bible worker and then head pastor in the Mariana Islands district. In 2015, he moved to the United States to attend the Theological Seminary at Andrews University.
While at the Seminary, in 2017, Carlos was called to serve as an assistant pastor at the Battle Creek Tabernacle. After he graduated in 2018 with his Master of Divinity, he continued serving there. He and his wife are blessed with two daughters, Yasmin and Isabel.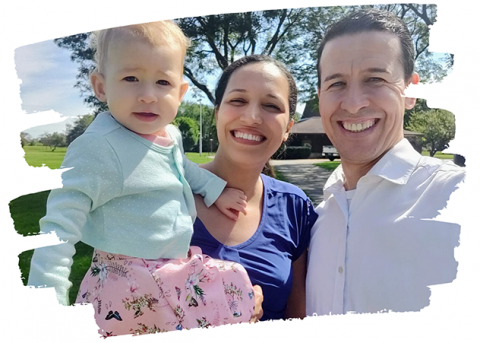 Alcidiel Leopoldino, Wisconsin Conference
Part of Alcidiel Leopoldino's childhood was spent with his mother who died when he was eight years old. At 12, he lost his father, leaving him unprotected, and in the midst of poverty, ended up living on the streets of his native Brazil.
As a young man, Cid (as he's known) traveled to Spain and it was in that country that God worked in that young adventurer. One day at the invitation of his brother, he visited the Seventh-day Adventist Church. Little did he know he was about to meet a young woman, Nechi.
In 2007, he was baptized and in 2009 he married Nechi Bruno. Together, they decided to put their lives at the service of the Lord, first through the musical ministry and later accepting the Lord's call to study Theology at the Adventist Theological Seminary in Sagunto, Spain, an institution from which he graduated in 2014.
Upon completion of his theology studies, Cid accepted a call as a Volunteer Missionary, from the Wisconsin Conference, as a church planter in the Beloit, Wisconsin area, and since April 2019 has been the pastor of the Milwaukee Central Hispanic district. Cid and his wife are parents of Anabella and Olivia.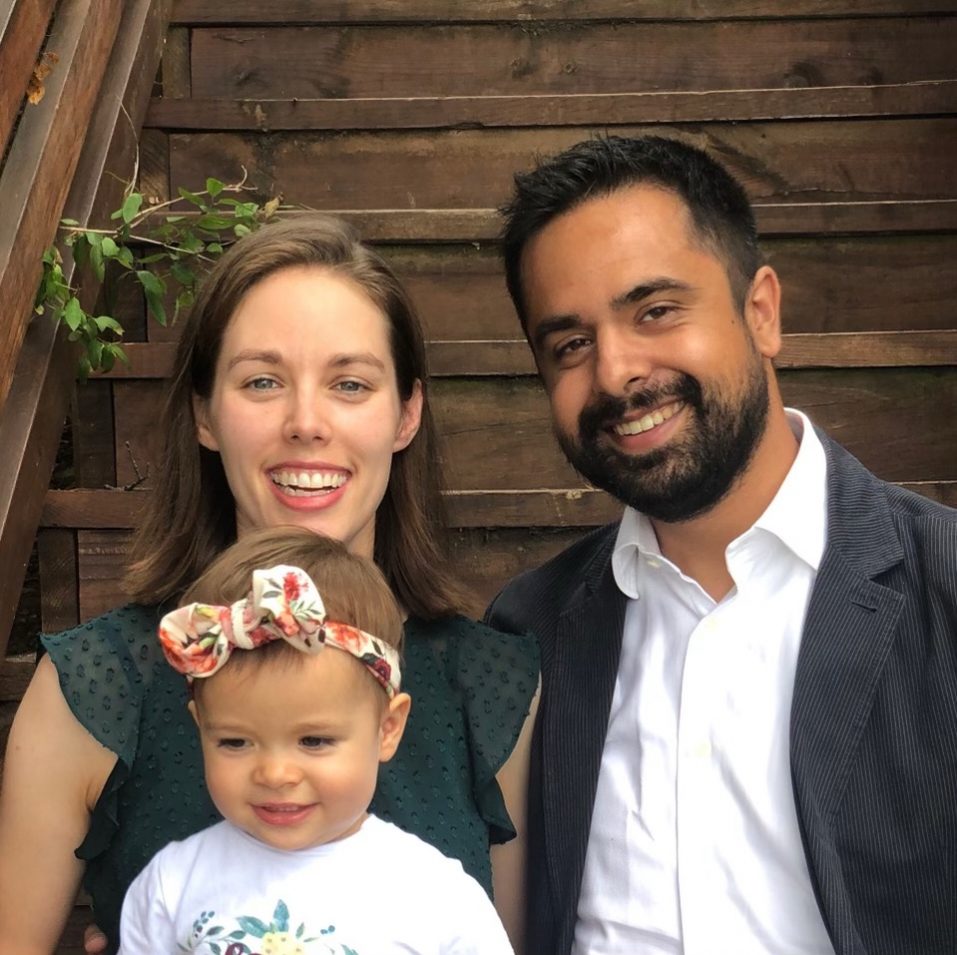 Justin Spady, Wisconsin Conference
When Justin was a child growing up in rural Indiana, his parents and church family taught him the eternal value of a personal relationship with Jesus. His parents lived a vibrant and abiding faith. Justin learned joy, patience, and the realization of his human frailty from the bonds of friendship with his two siblings, and many other friends along the way.
A near-fatal illness at 15 years old instilled in him a deep sense of the shortness of time and the driving passion of living a life fully dedicated to the advancement of the Gospel.
In college, Justin earned a BA in Biblical Studies with a Chemistry minor from Southern Adventist University. Attracted to the adventure of mission work overseas, he pursued a career in medicine; but God in His infinite wisdom and patience revealed His plans for him to work in the mission field at home. He led Justin to the love of his life, Jennifer. God also gave him the opportunity to earn his MDiv degree from the Seventh-day Adventist Theological Seminary at Andrews University.
Since graduating, Justin has been privileged to serve as a local pastor for five years in Wisconsin; first in the Portage church district, and now in the Wausau church district. God has blessed him with the birth of a daughter, Katelyn.
Looking back at the last three decades, Justin says he is in awe of the grace and strength our Heavenly Father. "I feel distinctly unworthy," he says. "I have been greatly privileged with the incredible adventure He has given me so far."
Justin's ordination to pastoral ministry is a confirmation, he says, that Jesus wants him in ministry for the long haul. "He has ordained all of us, the body of Christ, to love Him supremely and minister for the good of all people," he says. "He wants each of us as His disciples to demonstrate Christ's righteousness to a dying world desperately in need of Him."