An important component of extending the healing ministry of Jesus is to serve the community — especially those who are underserved.  
Recently, AMITA GlenOaks opened a new micro food pantry near its Emergency Department entrance. The micro pantry – featuring free non-perishable food, toiletries, baby food and diapers on several shelves – is available to patients, visitors, associates and community residents, as needed. Another micro pantry is in place on the Bolingbrook campus.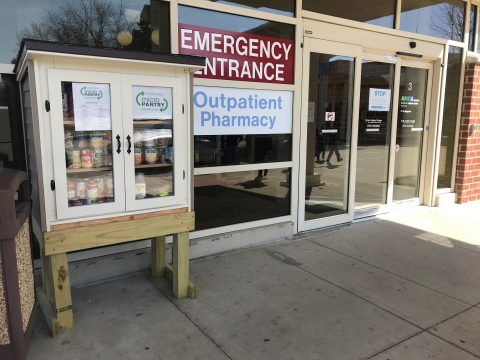 Samantha Sagrado, manager, Volunteer Services at AMITA Bolingbrook and GlenOaks, created a sign-up sheet for hospital departments to adopt the micro pantry for a week, helping to collect donations, get it stocked and monitor usage. 
"I was so moved by the support of associates and hospital departments to get the sign-up sheet filled up through summer," Sagrado said. "We've also had support from community partners, Elmhurst College and the Addison Romanian Church, in donating food for the micro pantry." 
Hospital departments, Pastoral Care and local churches are helping to get the word out about the new micro pantry. There are no limits on how much food an individual can take or how often. A sign near the GlenOaks pantry says, "Take what you need. Leave what you can." 
Additionally, a new Personal Supply Pantry has launched with the La Grange Family Practice Residency Clinic for patients and associates in need. Here, donations of personal care items like shampoo and deodorant, as well as baby care items such as diapers and wipes, are being collected. "These are items that may not normally be found in food pantries," said Heather Hoffman, regional director, Clinical Mission Integration.